Posted in Art, Painting on July 24th, 2009 by QT Melon
The earlier John Singer Sargent piece I'm studying was very washed out.  I hadn't opened the file in a while because I was tired of Painter crashing on me. What I realized is that the picture I was working on wasn't as messed up as I thought. I realized I hadn't set the color management settings properly.
So this is my study so far (still working on it) with color management set on – the right shows how bad it looked because I had it off.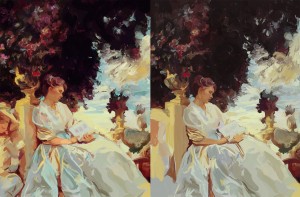 I also learned if I am to use the Sargent brush, make sure I have blocks of background color painted in first. It appears the Sargent brush treats the canvas as a background color and diluted my colors by adding in white.
Tags: corel painter, john singer sargent, master copy, sargent brush, study