Posted in Art, Painting, Tutorials on July 20th, 2009 by QT Melon
http://www.conceptart.org/forums/showthread.php?p=2351547#post2351547
This was actually at the encouragement of Massive Black /Concept Art owner Jason Manley himself.
Sorry for the name drop, but he was also kind enough to give me some tips on improving my master copy.  I had abandoned it a while ago because of my hand injury and Painter's instability issues. However, Jason was giving me advice on why some parts looked like mud and he was right on how I need to check my saturation points. I really appreciated it.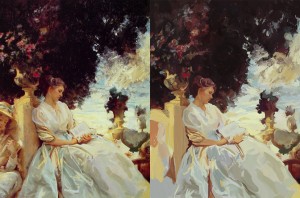 On the left is the original, the right is my WIP.
Tags: john singer sargent, master copy, wip