Posted in Art, Sketch on July 18th, 2009 by QT Melon
I noticed this blog after idling on Concept Art about different methods of studying Bridgman.
The method http://deadoftheday.blogspot.com/2009/07/perspiration-anatomy.html
Do a tonal study of Bridgman. I grabbed my pencil while on the bus and did a few I'll post the originals so you can compare them to mine. It was a bit harder…I went with mostly sketches so I'd have to figure out the tones myself. Some of it I had to figure out the inner anatomy. Some fail, but still learning.
Originals:
Granted my attempts, there are five. I just don't feel like digging up the fifth one. Suffice to say it's a knee/leg study. I really need a new moleskin, I was reduced to using my water damaged one…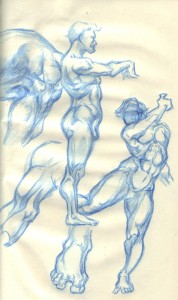 Oh and I have a couple from a year or two ago so you can see the difference when I first attempted to learn from him.
Practice Practice Practice.